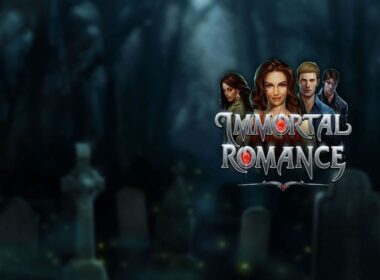 Amber, Sarah, Troy and Michael
Amber, Sarah, Troy and Michael.
The stars of Immortal Romance.
Immortal Romance is a 243 Ways too Win slot from Microgaming starring Amber- a beautiful witch, Sarah- the heroine, Troy – a blood sucking ladies' man and Michael – an 800 year old vampire who looks about 30 (well, he is immortal).
They are all characters in this game (click on the following to get an idea of Immortal Romace's RTP%). You'll see them on the reels of course, and they all have their own bonuses in the Chamber of Spins which you enter when you land 3 door knockers. But what's their story? We take a look.
Meet the characters from the Immortal Romance Slot
Amber
Amber is a sultry looking brunette witch who hands out ten free spins in the Chamber of Spins. Be careful- once you fall for her, you're in for some reel love (ha ha) and she's the kind of girl who won't take no for an answer.
She is the best friend of Sarah and is descended from a tribe of Caribbean Witches. She has supernatural powers. As well as being a witch from the West Indies, she's also a pharmacist, but rather than working at Boots the Chemist, she uses her skills to manipulate blood which she uses for her own ends.
Amber is heavily psychic- don't get too close- she'll read your mind and she will instantaneously judge you on your history and make a pretty damn accurate prediction of where you're headed to in life. She's been a friend of Sarah's (the heroine of the story) for her whole life and when she hears of Sarah's infatuation with a dark and brooding university professor called Michael, her internal alarm bells start ringing. She predicts only death and destruction from the relationship and moves to warn her best friend of the dangers.
When she finds out that Michael is a vampire, she confronts him and threatens too curse him for evermore if he harms her friend or tries to make her immortal through his blood lust.
Then Troy arrives on the scene, who shakes her to her very core. Rather than being frightened by Amber's paranormal abilities, this new vampire is drawn to her in what becomes a destructive relationship built on mutual attraction, fear and mistrust.
Age:34
The Best Friend
Works as a Pharmacist.
Free Spins: ten
All wins multiplied by x5
Free Spins can re-trigger.
Troy
Troy is a 200 year old vampire who is something of a ladies' man and a scoundrel. This playboy was born into a Hungarian blue blooded family in the eighteenth century and uses his charms and good lucks in his continuing quest for power and pleasure. He lusts after human blood and will stop at nothing to feed but worships at the feet of his master Michael who once saved him from a horrible death from the Shadow Council a hundred years ago. Since then, he has been forever in the debt of the older vampire.
Coming across his mentor again after a decade of searching, he is stunned to find Michael besotted with a human female called Sarah. He suspects that there is something behind this attraction- something sinister, and pledges to investigate and get to the bottom of his master's infatuation.
Age: 200
The Treat 'em Mean, Keep 'em Keen Ladies' Man
Works as a Bloodsucking Playboy
Free Spins: fifteen
With Vampire Bats Feature
Watch out for those blood sucking vampire bats in this feature! The bats can randomly swoop in and turn symbols into x2 or x3 multiples. Up to a 6x multipler can be awarded.
This bonus is unlocked from the 5th trigger of the bonus feature.
Michael
Michael is over 800 years old (although it doesn't look like it). He is a professor of genetics at the University (a fantastic cover for a blood thirsty vampire). Actually, being immortal isn't all it's cracked up to be, and Michael lives a life of academia to give meaning to his life- which, let's face it, is pretty long and ain't ending any time soon.
While lecturing and presenting a thesis on Molecular Phylogenetics, Michael meets Sarah and falls head over heels for this beautiful, intelligent woman. Knowing that his vampire secret may scare her away, Michael treads carefully and woos her as a mortal but in a moment of recklessness, reveals all and his true love for her.
Age:800
The Lover
Professor of Genetics.
Free Spins: twenty
With Rolling Reels
Consecutive Wins nudge up the multiplier trail up to x5.
This bonus is unblocked from the tenth trigger of the free spins
Sarah
The heroine of Immortal Romance is Sarah– a beautiful 37 year old brunette who is a Doctor of Pathology at the University. She is an expert in Cellular Regeneration- the art of Immortality- but she's not there yet. She is working all hours on her thesis that ageing is a disease of the blood- a malady that can be cured.
She meets the handsome Professor Michael at a seminar – little does she know that he is immortal and has fallen for her. The key to her theory is a walking, taking vampire- and he's the one that's found her, but she is in danger. Michael confesses his love and his condition and agrees to help Sarah who wants to study his blood. Will she start on a bout of Vampire Ass Kicking? Hardly- she's fallen head over heels for him.
She's on the verge of an incredible scientific breakthrough, but is she willing to put her life and love on the line to deliver the answer to that eternal question- can we become immortal? And is she just a mortal? There are secrets to Sarah that even she doen't know about!
Age:37
The Heroine
Doctor of Pathology
Free Spins: 25
With Wild Vine Feature on reel three.
The Wild Vine symbol randomly turns symbols into wilds.
Two or more scatters will re-trigger up to four free spins.
This bonus is unblocked from the 15th trigger of the free spins.
Immortal Romance Wild Vine Symbol
This symbol appears in Sarah's free spins bonus (available after the fifteenth trigger) and turns other symbols wild at random helping you to make up winning combos.
If you can also land some scatters, you may be able to extend the twenty-five free spins giving you more chances for Wild Vines to land.