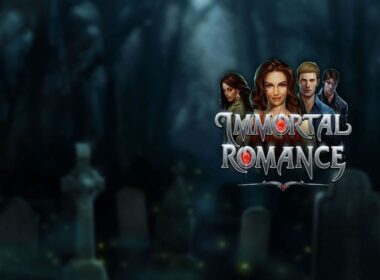 The Immortal Romance slot is a high variance slot. What does that mean exactly?
Well, slots variance, or volatility, is an extremely important concept to understand as it will affect how you approach the game.
It's especially important to understand if you are a fan of Immortal Romance, as this is one of the most volatile games out there. This is nothing to do with the Immortal Romance RTP% number- that's a different concept that we explain elsewhere.
What is Slots Variance?
Have you ever played a slot machine and not seen a bonus for 500 spins or more? Or did you feel like the game just sucked you dry and the whole thing went quick as a flash? Maybe you feel like you're getting lots of small wins but nothing substantial? Then you could be playing a high variance slot that just happens to be in "cold mode".
Variance has nothing to do with pay out which is a measure of how much of the total betting pool goes into paying out winnings. A low variance slot and a high variance slot at sites like Betway or WombatCasino.com can have exactly the same pay-out.
A low variance slot will tend to pay lower amounts more frequently, while a high variance (or volatile) slot will hand out wins more sparingly, but those wins will be bigger.
How to Work Out Slots Variance
Slots manufacturers don't tend to publish numbers on variance, but you can use the pay-table as a guide. There will be clues as to the volatility level.
Ask yourself the following questions: Do 3 or 4 symbol combinations pay low amounts in relation to combinations of 5? Do the bonus rounds have high multiplier offers and big free spins award or are they more modest? These are clues as to the volatility level.
Ultimately though, it's playing experience that counts. Take it from us though- Immortal Romance is about as volatile as it gets! If you want a quieter life, we'd recommend a slot like the Tomb Raider slot, or Mermaids Millions.
But if you like playing by the seat of your pants, then play on! Other high variance games include the Isis slot (another Microgaming game), the Great Blue slot (Playtech) and the Invisible Man slot (NetEnt).
Immortal Romance wasn't the first game to launch with 243 Ways to Win, but it was one of the first games to really motor on this system. Although a big chunk of the games pay-out potential is locked up in the different free spin bonuses, you can still hit a big win of several hundred times your bet in the base game. The game runs off the same back-end as the Thunderstruck 2 slot (another favourite of ours), but the vampire version is much more volatile. The Finer Reels of Life is another similar game from Microgaming, again the volatility is lower (for some reason we have never warmed to this game, I am not sure why).
One of the features that is behind the big variance is the "Wild Desire" feature which can trigger at random on any spin. You can see up to 5 (yes five!) reels convert into stacked wilds. If you get all five, you will get the maximum pay-out of over 12,500x your bet – imagine that on a £/€ 1 bet! Very nice.
But it's the bonus round where you'll be hoovering up most of your winnings if you hit a purple patch. If you get into the feature 25 times you can pick your favourite every time you get 3 or more scatter symbols (the door knockers).
Choose between 10 free spins at 5 x multiplier, a "spreading wilds" feature (25 free spins), a Vampire Bats bonus where the bats add multipliers at random onto existing wins, and Rolling Reels where you can notch up consecutive wins off a single spin- you might have seen this on other games like the Cricket Star slot and the Football Star slot.
High Variance with Some More Variance!
Immortal Romance publishes a RTP (Return to Player) range of 96% and 96.8% which is rather unusual. Why the variance in this figure? We believe this is down to different RTPs associated with the 4 free spin features. The number could be expressed as an average of all 3, I guess, but as you need to unlock the features, Microgaming have chosen to express the RTP as a range.
Which of the 4 free spin features you choose will also affect the variance or volatility of the game. The Rolling Reels feature is the least volatile (makes sense as you will see consecutive wins on the same spin- ie more frequent wins). The 10 free spins at 5x is the highest variance- you only have 10 spins to bag the big one, in other words!
Generally speaking, the higher the variance of a slot, the better the RTP. But Microgaming isn't exactly transparent with this kind of information, so it's a little hard to pin down. Just be aware that the choices you make in the game will affect the volatility, but it will be grades of high volatility- overall, you are looking at one of the higher variance in the business, This game can suck you dry, but it can also pay out BIG!
Summary
All in all, across the base game and the bonus features, this is definitely a High Variance slot! Play carefully and make sure you set your bet level at a sensible amount that will allow you to ride through any slow patches. And cross your fingers that you hit the rapids early- hang onto your seat!
At the end of the day, the Immortal Romance slot is more likely to pay out less of the medium type wins of 20 to 30x your bet and more of the huge wins. Just make sure you give yourself enough room to ride out the lean periods – at least 200-300 spins is what you need to be thinking of, possibly more . So if you are playing $0.30 per spin you need to have around $100 in your bank roll.
But it all comes down to luck – you could hit a big win in your first 100 spins. We hope you do! Good luck.