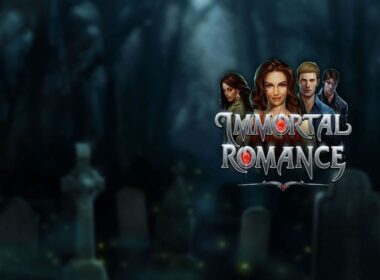 Michael - Immortal Romance
Sarah's Main Love Interest
The 800 year old vampire, he's been around a bit!
Michael is no spring chicken. He's 800 years old in fact, so you could say that he has been around the block. But being immortal, he doesn't look it. He plays the part of Sarah's main love interest in the Immortal Romance slot. They met at a seminar on genetics.
Michael Facts
Who is Michael?
He's the Lover of all ages, the Immortal Other Half
What Does he Do?
Michael is a Professor of Genetics
How old is Michael?
He's 800 at the last count. He's obviously using moisturiser.
About Michael from Immortal Romance
Well, he's Sarah's Main Man.
Sarah was working on a theory that ageing is actually a disease of the blood and is curable. Along came Michael who seemed to have cheated the ageing process and the rest, as they say, is history.
Michael's bonus is unlocked after the tenth trigger of the free spins bonus in the Immortal Romance slot.
You'll notice that many shots of Michael show him in front of books, as that's because he has a huge library built up over the course of 780 years and a big brain to match. He is a Professor of Genetics.
All was going fine until Sarah came along and swept him off his feet. At first he hides his true vampire identity from her for fear of losing her, but in the end he reveals all.
Let's just say Sarah takes this new information in her stride. She's head over heels in love with him as well and, in any case, it all helps her genetics research.
Michael has seen more than most during his lifetime. He was around during the Battle of Mohács in 1526 when Transylvania belonged to the Eastern Hungarian Kingdom.
During the 16th and 17th centuries, he served in the Ottoman Empire, and was later influential in the Habsburg Empire when they controlled Translyvania. After the revolutions of 1948 after World War 2, he made his way to the New World and settled in the US to escape communism.
He doesn't remember much from his childhood in the snowy and dark forests of Northern Europe. He survived on the blood of wild animals before finally emerging from the shadows.
He also answers to Mihály (Hungarian), Mihai (Romanian) and Mikail.
These days, he is registered as a US citizen under the name of Dr Michael Bartholomew de Lioncourt II. Or Mike to his friends.
Michael Facts
Nickname
The Immortal Lover
Profession
Professor of Genetics
Bonus
Gives out 20 Free Spins with Rolling Reels
Bonus Feature
Consecutive Wins head up a multiplier trail to x5.
Bonus Sequence
The Michael bonus is available from the 10th trigger of the free spins
Favourite Book
Don Quixote by Miguel de Cervantes
Favourite Music
Symphony, No. 6, "Love the Way You Lie" by Eminem
Drives
1967 Ford Mustang, Mercedes Benz EQC
Hobbies
Sailing, racquetball, opera. He's not a bad fencer.