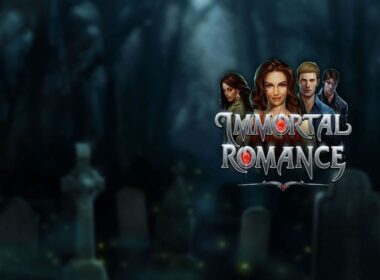 Sarah - Immortal Romance Slot
Sarah is the main character in the Immortal Romance slot.
She is a Doctor of Pathology
The Lady in Red and the girl to watch out for in the Immortal Romance slot is Sarah. The ruby heart pendant on the gold chain that she wears around her neck was given to her by Michael. Little does she know that it has secret powers. More on that below.
Her bonus is available from the fifteenth trigger in the Chamber of Spins bonus, so she's not the easiest to catch. She will award 25 free spins, potentially with "Wild Vines" which can change multiple symbols into Wilds at random.
About Sarah from Immortal Romance
Who is She?
The Heroine of the Immortal Romance slot, no less!
What Does She Do?
Sarah works as a Doctor of Pathology. She's a smart cookie.
How Old is She?
The last time we checked, she was 37. That 763 years younger than her boyfriend, so you could say she was Michael's Toy Girl, but she's certainly an intellectual match for him
More About Sarah
The Wild Vine feature takes place on the middle reel (3). This symbol randomly transforms other symbols into additional wilds which can get the pay out jumping. And try and land some more scatter symbols as one, two, three ,four or five scatters will trigger one, two, three ,four or five free spins in the bonus. So, more chances to land Wild Vine symbols!
Sarah is a mere mortal, 37 years of age and a doctor of pathology. She has spent her life working on ways of reversing the ageing process, travelling globally to research and uncover evidence backing her claims that ageing is a reversible blood disease that has a cure.
While attending a medical conference in San Francisco, she meets Michael, a dashing 800 year old vampire and Professor of genetics. Feeling that this meeting was fate, she persuades Michael to allow her to study his blood and she stumbles on an amazing scientific discovery. She now has to make a choice. Does she go public with her findings and risk her life and relationship with her vampire lover?
You'll notice that she always wears a ruby heart pendant on a gold chain around her neck. This was given to her by Michael and it possesses some secret powers, protecting her from all other vampires
She's about to find out that maybe she's not a mere mortal after all.
Sarah is also the highest paying symbol in the base game after the specials (Wild and Scatter). The next highest is her lover Michael, followed by playboy Troy and finally by her best friend Amber.
Sarah Facts
Full Name
Sarah Constance-Amor
Weight
61 Kg (9 1/2 stone)
Occupation
Doctor of Pathology
Languages Spoken
English, French, Spanish, Mandarin, Japanese
Bonus Feature
Wild Vine Feature on reel three.
Feature Special
Wild Vine turns symbols into wilds at random
Other
2 or more scatters will re-trigger up to 4 free spins.
Bonus Sequence
This bonus is unblocked from the 15th trigger of the free spins round (Chamber of Spins)