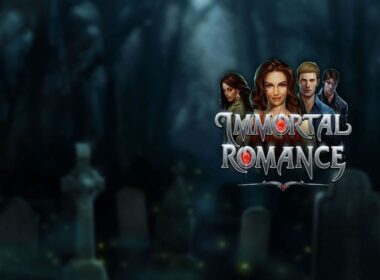 Immortal Romance Slot Tips
This is a volatile slot, so set your session plan before you play for real!
Immortal Romance is a popular Games Global slot game famous for its immersive gameplay and high volatility. Here are some tips to help you get the best enjoyment out of the slot.
Do Your Research
Understand the Game: familiarize yourself with the game's rules, pay-table, and bonus features. Immortal Romance offers 243 ways to win, meaning that winning combinations can be formed by matching symbols on adjacent reels, regardless of their exact position.
Set Your Bet Level
Immortal Romance is a volatile slot, which means that wins may be less frequent but potentially larger. To manage your bankroll effectively, it's recommended to start with a low to moderate bet level. Choose a coin size that suits your budget. It's important to find a balance between the bet size and the number of spins you can afford.
Bonuses to Wait For
Immortal Romance offers several entertaining bonus features. One of the most popular is the Chamber of Spins, which unlocks different levels as you trigger it multiple times. Each level corresponds to one of four characters, each offering their unique free spin rounds with various multipliers and special features. Wait for this bonus to activate, as it can lead to some decent wins.
Stop Loss and Take Profit
Establishing stop loss and take profit levels is key to enjoying yourself. Determine the maximum amount you're willing to lose before stopping play (stop loss) and the target amount of winnings you aim to reach (take profit). Once these levels are reached, have the discipline to stick to your plan and avoid chasing losses or getting overly greedy.
Original Game vs. Mega Moolah Version
The game also come in an Immortal Romance Mega Moolah version, which is linked to the famous progressive jackpot network. The Mega Moolah version provides an extra chance to win big jackpots alongside the base game. However, it's important to note that the Mega Moolah version has a lower RTP% (to fund the jackpot). Decide whether you're primarily interested in the progressive jackpot or prefer the standard gameplay experience.
Practice and Play Responsibly
Before committing real money, consider playing Immortal Romance in the free demo mode to get a feel for the game mechanics and bonus features. This allows you to understand the game's volatility without risking any funds. Remember to gamble responsibly and set limits on your playing time and budget.
Enjoy Yourself
Immortal Romance offers an immersive and entertaining gaming experience. While it's important to strive for wins, don't forget to have fun and enjoy the game's storyline and visuals.
By following these tips, you can enhance your Immortal Romance gameplay experience. Remember to approach slot gaming with a responsible mindset and have realistic expectations about the outcome of each session.
Good luck and enjoy playing Immortal Romance!