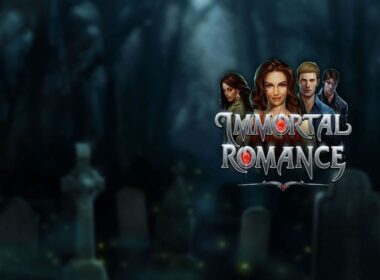 Amber
Sarah's Best Friend and Confidante.
She is descended from a family of Caribbean witches.
Sarah's best friend and partner in the vampire loving slot that is Immortal Romance is Amber, who was descended from a family of Caribbean witches and has supernatural powers. One of her hobbies is brewing potions and healing elixirs. She is able to see the past and the future of everyone she touches. Not one to mess with, in other words!
Her bonus is available from the first trigger in the Chamber of Spins bonus, so she's the #1 bonus that you will see on the Immortal Romance slot game. She will give you ten free spins, and all wins are multipled by x5.
About Amber from Immortal Romance
Who is She?
She's Sarah's Best Friend and a Psychic, descended from Caribbean witches.
What Does she Do?
Sarah is a Pharmacist (and part time witch in her spare time).
How Old is She?
The last time we checked, she was 34, three years younger than Sarah and 160 odd years younger than her boyfriend Troy.
More About Amber

Amber is an attractive brunette who is the first of the Immortal Romance friends that you will see in the Chamber of Spins: she gives out ten free spins.
She is Sarah's BFF and counts a tribe of Caribbean Witches as her relatives. That has endowed her with supernatural powers. On the job front, she's a pharmacist, and is especially interested in analysing blood.
Amber's strong psychic powers are a danger to anyone she meets – if she lays a finger on you, she'll be able to read your mind and see your past and future.
Lifelong Friends
Amber has been Sarah's friend for her entire life and when she heard about of Sarah falling head over heels for a mysterious university professor called Michael, the alarm bells started ringing. She can foresee only bad things from the relationship and pleads with her best friend to break it off.
When she discovers that Michael is a vampire, she threatens to lay a spell on him for the rest of time (and that's a long time for an Immortal) if Sarah ever come to harm or he makes her join him in immortality through his lust for blood.
Troy throws another spanner in the works. This new vampire on the scene is drawn to her and their relationship spirals out of control into a chaotic mess of lust, terror and mistrust.
Amber Facts
Full Name
Amber Lourdes le Fay
Weight
53 Kg (8 1/3 stone)
Languages Spoken
English, French, Spanish, Dutch, Haitian Creole, Papiamentu
Quirks
Always walks around with her Book of Spells
Other Bonus Features
Free Spins Can Re-Trigger
Chamber of Spins Number
#1. This bonus is unblocked from the 1st trigger of the free spins bonus.