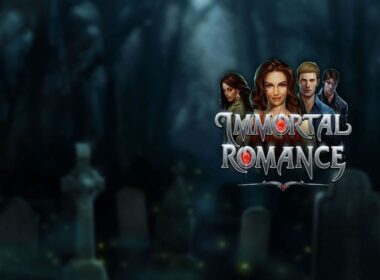 The Immortal Romance Slot Game is a Vampire Slot, of course. It's a game that's been inspired by TV shows like The Vampire Diaries, and True Blood (not to mention Blade and Buffy The Vampire Slayer.
But where has all this vampire stuff come from? When did Immortality get so popular?
Christopher Lee as Count Dracula in " Dracula Has Risen From the Dead"
Well, vampires have been talked about for many centuries, in many cultures. These mythological beings are the stuff of folk legend in many cultures around the world. They survive, in general, by feeding off the living (usually by glugging down their blood). Stories about vampires go back to prehistoric times, but the actual term "vampire" was not coined until the 18th century, after a wave of vampire superstitions swept Western Europe from the Balkans and Eastern Europe (eg Romania).
John Polidori's 1819 book The Vampyre is where it really sets off. This was followed by other works such as Varney the Vampire and Dracula, published in 1897 which is perhaps the most famous vampire novel of all.
During the 18th century, there was a wave of vampire sightings in Eastern Europe, with stakings and grave diggings to identify and kill the beings- even at a government level.
Things became so bad that they are often labelled as a kind of mass hysteria throughout much of Europe, with a wave of supposed vampire attacks in East Prussia in the 1720s.
Serbian legends feature highly at this time and there are many stories involving vampires that are both recorded in the real world and as stories, such as the book written by Milovan Glišić .
This hysteria became known as the "18th-Century Vampire Controversy", and it lasted for a generation.
Film and TV
Vampires have always been a big pull at the box office, and they are big on the small screen too. Dracula stars in more films than perhaps any other character. The 1922 German film Nosferatu (silent), is probably the first film about Dracula, followed quickly by Universal's Dracula (1931), and Dracula's Daughter in 1936.
It was probably the famous Hammer Horror series of films, starring Christopher Lee as the Count, which really fuelled a vampire boom. The 1958 Dracula starring Lee was followed by no less then 7 sequels. In the 70s, we have Count Yorga, Vampire (1970), an African vampire in 1972's Blacula, and 1979's Salem's Lot. The sixties also spawned the vampire TV series Dark Shadows with Barnabas Collins as the blood sucker.
Several movies featured female, (mainly lesbian), vampires such as Hammer's The Vampire Lovers (1970). Later portrayals focus on the vampire hunter as the star, rather than the vampire, so we have Blade in the Marvel Series Blade films and Buffy the Vampire Slayer (1992).
Now we really get to the boom time, with 1994's Interview with the Vampire: The Vampire Chronicles. Bram Stoker's Dracula was successful film which became the most successful vampire film ever. This spawned Underworld and Van Helsing, plus a TV miniseries remake of 'Salem's Lot, both in the noughties. There was Buffy The Vampire Slayer of course.
The TV show Blood Ties had its opening night in 2007, featuring Henry Fitzroy, illegitimate son of Henry VIII of England turned vampire, now living in Toronto. The HBO series True Blood was next up followed by The Vampire Diaries.
This is not a genre that is going anywhere!
Slot Game
If you like Vampire themed stuff, and you like slots, you might want to try Immortal Romance: it's a cool 5 reel vampire themed game.